Previously, we posted four inspiring posts of Day 33 topics. You could look back at the main post 99 Days of Freedom: Who Goes Back Early?. This is the second Day 66 Topic: Missed content: out, events, friends, missed, some.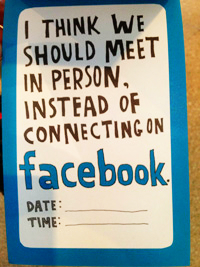 (Source: http://www.pinterest.com/)
Representative responses for this topic come from a mix of questions, including the worst thing since the last survey, what the respondent was most nervous about during the next 33 days, and whether the respondent's relationship with her or his family had changed. The content of these responses deals not only with missing out on events but also other types of occurrences:
"Missing some of the pictures of the grandchildren. And missing some invitations to gatherings."

"I missed a birthday because of not seeing the FB invite."

"Missing out of messages from people and them thinking that I am ignoring them. Missing out on updates for group events."

"I've missed notices and pictures that they expected me to see."
This topic somewhat surprisingly predicts decreased likelihood of reversion, even though we can see that birthdays, messages, and photos, in addition to events, are a felt absence for respondents. We could infer that if missing a few birthdays and other events is the worst thing that has happened since leaving Facebook, that is not bad enough to lead to a return before the planned 99 days have passed. In other words, while missing out on the content of social media emerged as a consistent theme, it is the people who describe compulsive behaviors who ultimately struggle with maintaining non-use.
Is there anything on Facebook that you feel you cannot live without it? Leave us a comment!
Reference
Baumer, E.P.S., Guha, S., Quan, E., Mimno, D., & Gay, G. (2015). How Non-use Experiences Influence the Likelihood of Social Media Reversion: Perceived Addiction, Boundary Negotiation, Subjective Mood, and Social Connections. Social Media + Society.