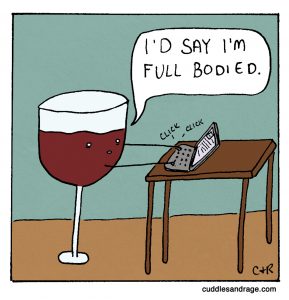 (Source: http://cuddlesandrage.com/2013/-wine-dating/)
How does it feel if you suddenly don't have access to Facebook?
"One night I got really drunk and changed my Facebook password to something I thought would be easier to remember. When I woke up and realised I had no idea what I had changed it to, […] I realised I was locked out. I was surprised that it made me a bit anxious for a couple of hours. After that I realised I felt great, that actually I'd been thinking and talking about how stupid, pointless, and time-wasting the damn thing was for ages, let alone the fact that I was giving a corporation all of my personal details and habits for free.
"I left it like that for a year, then spent a couple of days going through the process of regaining my password from them so I could permanently delete it. […] These days I have no regrets at all – I much prefer twitter[…]" – M, 29, Admin Manager
Reference
Baumer, Eric P. S., Phil Adams, Vera D. Khovanskaya, Tony C. Liao, Madeline E. Smith, Victoria Schwanda Sosik, and Kaiton Williams. "Limiting, Leaving, and (re)Lapsing: An Exploration of Facebook Non-Use Practices and Experiences." In Proc CHI, 3257–3266. CHI '13. New York, NY, USA: ACM, 2013. doi:10.1145/2470654.2466446.