The main post 99 Days of Freedom: Who Goes Back Early? lists four topics for Day 33 responses. The second Day 33 topic is Friends' reactions limited: about, know, one, don't, really.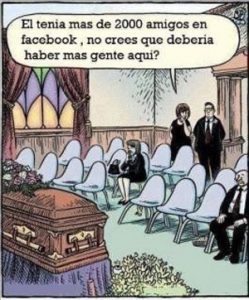 In Spanish: "He had over 2,000 friends on Facebook, don't you think there should be more people here?"
(Source: http://www.pinterest.com/)
Most responses to this topic come from the question about how the respondents' friends reacted. The responses describe a minimal reaction from friends, in some cases that friends did not even notice:
"Not many really cared or commented. I don't think anyone shared in my revolt."

"They didn't even notice that I wasn't there. No one called or emailed to ask what was up."

"Nobody is bothered. Nobody outside fb asked me why I did I do it. On fb if anybody asked I don't know."
Interestingly, many of these responses also note the fact that, since the respondent had not logged in, s/he had not seen the reaction from Facebook friends. Such statements carry a "don't know, don't care" connotation about friends' reactions on Facebook. This topic predicts decreased likelihood of reversion.
Would you feel sad if no one tried to contact you after you deactivate your Facebook account? Feel free to leave us a comment.
Reference
Baumer, E.P.S., Guha, S., Quan, E., Mimno, D., & Gay, G. (2015). How Non-use Experiences Influence the Likelihood of Social Media Reversion: Perceived Addiction, Boundary Negotiation, Subjective Mood, and Social Connections. Social Media + Society.